Case Study: Quarterly Focuses And Why We Set Them
We firmly believe in setting quarterly targets in our business. They are an important aspect of strategic planning for any business as they provide a clear focus and direction for the entire company over a short-term timeframe. These targets and focus areas are consolidated into a fun theme that is designed to align with the overall company goals and objectives and are aimed at addressing key challenges or opportunities that the business faces in the coming 3 months.
By setting a quarterly focus, we can prioritize and align our resources, activities, and initiatives to achieve specific goals that are aligned with our long-term vision. This helps ensure that everyone in the organization is working towards a common objective.

A quarterly focus also provide a framework for measuring progress and holding team members accountable for achieving specific outcomes. By breaking down larger goals into smaller, more manageable objectives, we can track our progress more effectively and make adjustments as needed to stay on track.

Our 2023 Q1 Focus: The Power Of Class Performance & Delivery
100% performance
100% excellence
100% service
100% effort
Why did we start the year with this focus?
We wanted to gear up to start 2023 the way we intend to see it through: with a commitment to excellence. We wanted to focus on what matters most - our performance as a promise of commitment to our clients' peace of mind that they get from knowing every time one of their students clicks that button to join a class, they will be met by one of us, a Really Great Teacher.
And to give them that, we focused on getting to that golden target of 0 lost session hours.
Nil, Zip, Nada, not a single lost class. A big commitment, when you consider the thousands of hours that our teachers deliver on a weekly basis.
We define a "lost session" as a class that was negatively impacted by teacher-influenced technological issues or absenteeism.
That commitment goes further to recognize that not all clients are the same. And so we brought our attention to a primary Keep Promise Indicator (KPI) for each client, to what matters most to them. Whether that is student ratings, scheduling efficiency, or booking rates, we aim to exceed their expectations in this area, on all accounts.
So our two key performance areas were:
To reduce the number 1 metric for our clients – reducing session loss.
To maximize client account performance and student satisfaction.
What Did We Do?
In each of our departments we identified the key factors that impacted these two core areas, and what we needed to work on to achieve our goals.
This meant teachers needed to ramp up their preparations, making sure their schedules, equipment, reporting and emergency planning was all on point, every minute of every day. From operational support teams to 24/7 technical support, effective training and development initiatives to increase classroom performance, to recruitment always ensuring sufficient headcounts for every client need, it was all hands on deck.
We truly worked together as a team to show the world the power of class performance.
What Were The Results?
We know that concerted efforts into problem solving core challenges is effective, but the results at the end of this quarter blew our minds! Our teams delivered more than we ever could have asked for.
We measured our success against maintaining our teams' performance ABOVE our clients' specific KPI's, and we strived for zero lost hours.
This is how we did by the end of Q1:
We had a RECORD low of 0.13% lost sessions
We managed to reach 94% ABOVE our client KPI benchmarks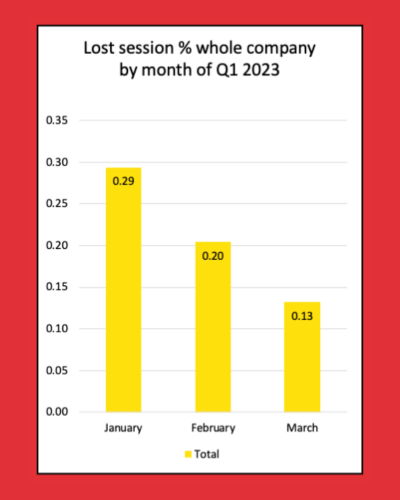 We are incredibly proud of our teams who exceeded every expectation to achieve these key goals. There were many highlights and wonderful moments throughout the quarter leading to something we are truly proud of, positively impacting our clients', teams, and students' experience across the board. This standard has become the new baseline against which we measure ourselves, and we know we will keep it up.
After all, our commitment to our clients is The Best Teachers, 24/7. Guaranteed!
What's Next?
A quarterly focus helps companies stay focused, aligned, and accountable, which are critical factors for achieving sustainable growth and success over the long term. So for Q2 this year, our focus is... EVERYONE IS A LEADER! Watch this space as our teams develop even further.