The internet has made it possible for businesses to expand into different markets in every corner of the globe. Online education demand has grown, spurred by the COVID pandemic. As a result, many in-person and online schools find themselves having to adapt to a changing landscape in global online teacher management.
A growing number of successful online teaching businesses have realized that partnering with companies that provide Teacher Management as a Service is the most efficient way to improve and grow their businesses.
Offline (in person) schools that wish to expand into the online space have also seen the value of utilizing the expertise of these online experts to bring their teaching services into the digital realm.
Teacher Management as a Service is easier, faster, cheaper, and more efficient than many in-house options.
What is Teacher Management as a Service?
Teacher Management as a Service is the name given to a group of services that Teacher Management Companies provide. These services cover online teachers' recruitment, management, and development on behalf of client schools/companies.
Typically, client companies only pay for lessons taught or delivered to their students by teachers under the management of a Teacher Management company. This ensures that utilizing Teacher Management as a Service can be an easy way to predictably scale teaching operations without the need for significant capital outlays.
Typically, these services include:
Recruitment & Contracting
– to each client's specific requirements
Screening, assessments, and vetting processes
Interviews, Contracting & Onboarding
Management
– of individuals and teams
Teacher Scheduling
Class Monitoring and Management
Teacher Performance and Disciplinary Management
Tech & IT Support
Financial Management - including invoicing and payroll
Training & Development
– to meet client standards
New teacher training in relevant systems and methodologies
Continuous training and professional development
Plus, additional value-adding services include:
Business Intelligence Monitoring & Collation
Personal Development Initiatives
Mentorships
Formal Qualifications for teachers
Content Development, including lesson plans or advertising services.
Learn more about our Teacher Management as a Service offering.
In-house Management vs. Teacher Management as a Service
Expanding education companies realize that outsourcing their Teacher Management as a Service helps rapidly grow their operations while maintaining high service levels to their students.
A good comparison is comparing the practice of buying CDs to a music subscription service like Spotify or Apple Music. Like Teacher Management as a Service, the music subscription is:
easier
faster
cheaper
more efficient
Clients that utilize a system that offers a "pay per use" model can reliably calculate their usage per hour, per day, and per month, whether they have 2 or 2,000 teachers requiring management.
Companies that have chosen to utilize Teacher Management as a Service have often realized that it is a good option for them after making a comparison such as below: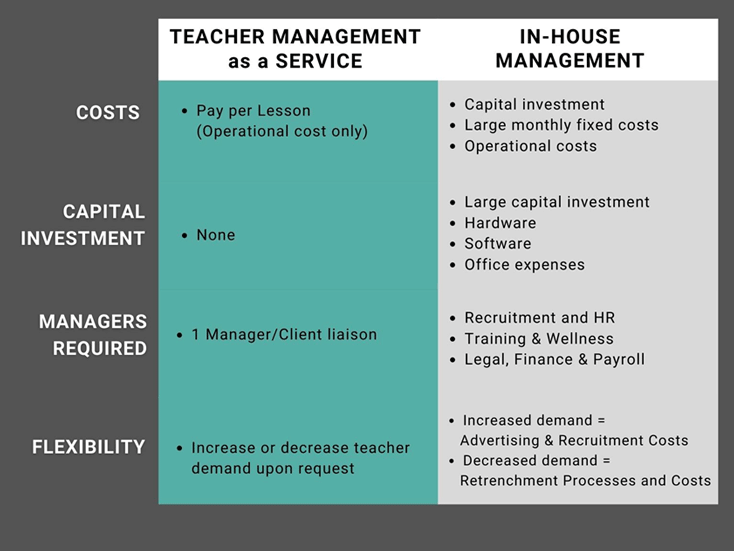 Advantages of Outsourcing your Teacher Management Services to Specialists:
While not all Teacher Management companies offer the same services, clients should ensure that they receive these advantages:
01
Flexibility and Control of your Teacher Supply
You should be able to increase or decrease your teacher volumes rapidly to suit demand fluctuations to save time and resources by eliminating the need for your internal team to do any recruiting, training, and related HR work.
Your provider must take care of your recruiting, contracting, training, scheduling, and payroll.
02
Scalability & Global Reach
Established Teacher Management companies should have teachers and management teams located across the globe. So, they can offer different teacher nationalities and services in various time zone and match any scheduling volume and demand.
03
Minimize or Eliminate any Missed Classes
Your students should never experience a missing teacher for a scheduled lesson. If you do, reputable Teacher Management Services companies should give you a double your money back guarantee or similar refund.
04
Improve your Teacher Quality
Experienced Teacher Management companies should have demonstrated abilities in setting up teachers to inspire students online.
Teachers must go through an in-depth screening process.
Then they should be trained extensively before teaching their first classes.
A bonus would be to partner with a company that prioritizes ongoing professional and personal development for its teachers.
After all, happy and well-trained teachers = happy and fulfilled students.
05
Increase Cost Efficiency
Partnering with a company that offers a "pay per use" model will ensure that you can change your spending from a capital-intensive outlay to predictable and scalable hourly operational costs.
You'll only be paying for classes you schedule, and there is no need to invest your capital in setting up in-house systems, hardware, and management teams.
06
Elimination of Scheduling Workloads
The workforce management requirements for your school should be completely taken care of by your provider.
07
Avoid Unnecessary Compliance Burdens
Reputable Teacher Management companies will contract all teachers directly. This approach ensures all legislative, and compliance requirements are met and eliminates clients' risk.
There's no need for complicated employment contracts, legal, payroll, or other related human resources workload.
08
Gain Key Insights and Knowledge
Many companies, including traditional offline (face to face) schools, have launched online services. They value the business intelligence, data, and advice that the top Teacher Management Service companies can provide.
From set up to best practice - utilizing a partner with significant operational experience in managing online teachers can save valuable time and rapidly increase the growth of your business.
Ensure that your provider can provide efficient, simple, and insightful reporting, communication, and service delivery.
8 Things to Watch out for when Choosing a Teacher Management Service Provider: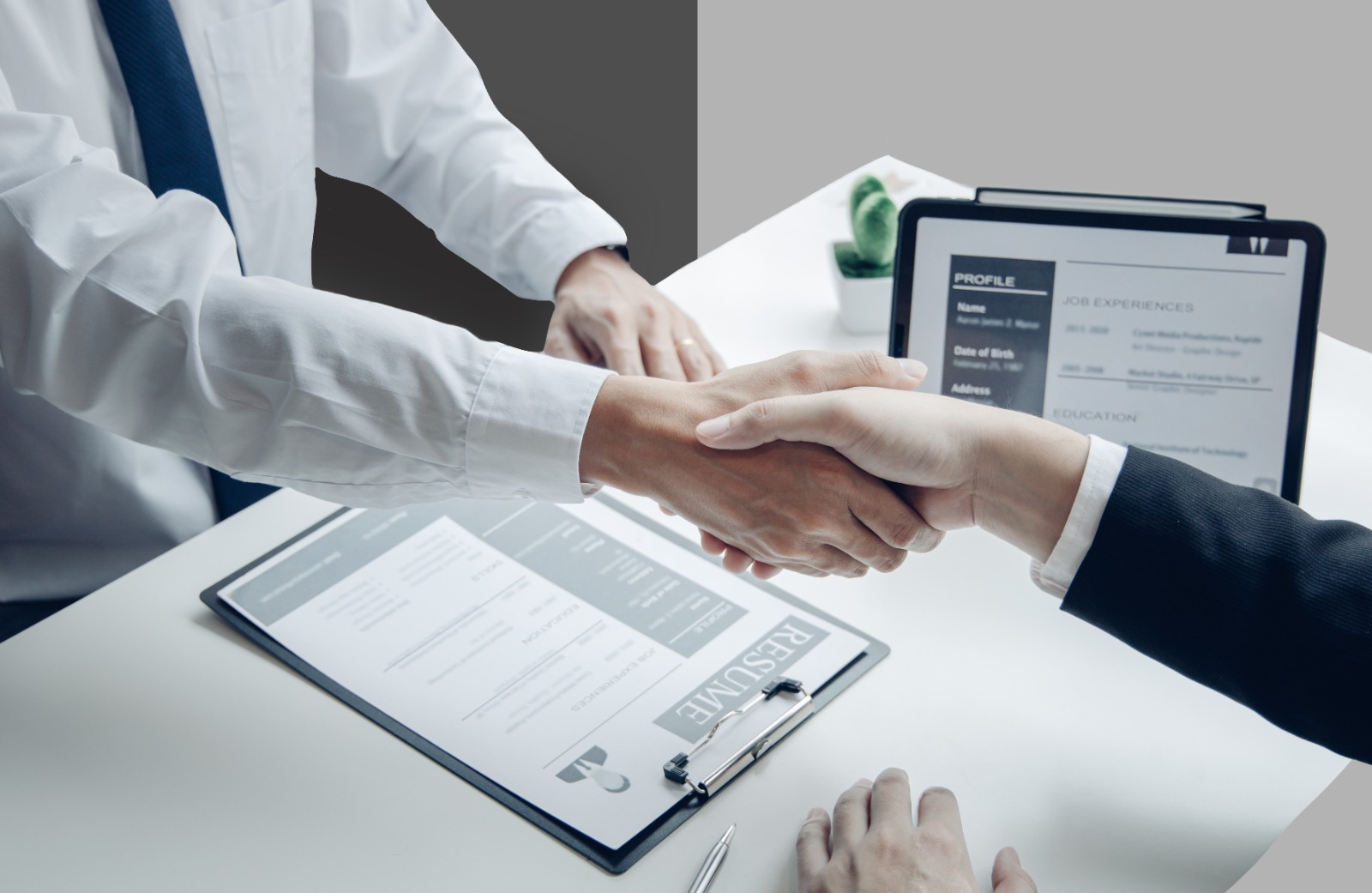 01
Service Delivery
A clear and concise Service Level Agreement (SLA) and guarantee to ensure that they are accountable for enhancing your reputation.
02
Confidentiality and Security
A Non-Disclosure Agreement (NDA) ensures all confidential information and processes are kept within the partnership. Ensure your partner also commits contractually to restrict any contact between their teachers and your students beyond the lessons that they teach.
03
Flexibility
Ensure that your contract is flexible enough to meet your demand changes but doesn't unduly prejudice your provider or their teachers. Striking a balance between notice periods required for teachers and large changes to schedules is key to ensuring that your provider can reasonably manage teacher expectations and the reputations of all parties.
04
Management Team's Experience
Your provider must have significant experience in the industry to support and add value to your operations seamlessly. Ideally, they should have also managed online schools themselves before setting up a Teacher Management company.
05
Stability
Make sure that your partner has a proven track record of delivery over several years. Ensure that your SLA's financial structure is fair and doesn't put an unnecessary financial burden on your provider.
06
Global Delivery Ability
If your business requires teachers and services in various time zones, ensure that your provider has the structure to support this. Check they can recruit internationally at scale and management/support teams spread across the globe to ensure suitable teaching times.
07
Value Adding Services
Some Teacher Management companies offer various other services to complement their core offering. These can include business intelligence and insights, lesson plan creation or editing, and even marketing and advertising content development. Having various services running through a reliable partner can offer a lot of added value and efficiency.
08
Risk Management
Ensure your partner can demonstrate how they will mitigate any risk areas on your behalf, specifically regarding payroll, contracting, and reputation management. To ensure your peace of mind, they must have reliable and proven processes and systems in place, including backup solutions.
Conclusion
The number of companies doing business online and globally is increasing rapidly, but recruiting, training, management, and the payment of online teachers, still present many obstacles for businesses. By appointing a reputable Teacher Management Services company, you can overcome these challenges and focus your efforts on your business' growth while the Teacher Management experts handle the rest.
Find out how your school/business can benefit by using The Really Great Teacher Company as your teacher management service provider.