Why you should get our TEFL qualification
Developed and Accredited by Teaching Experts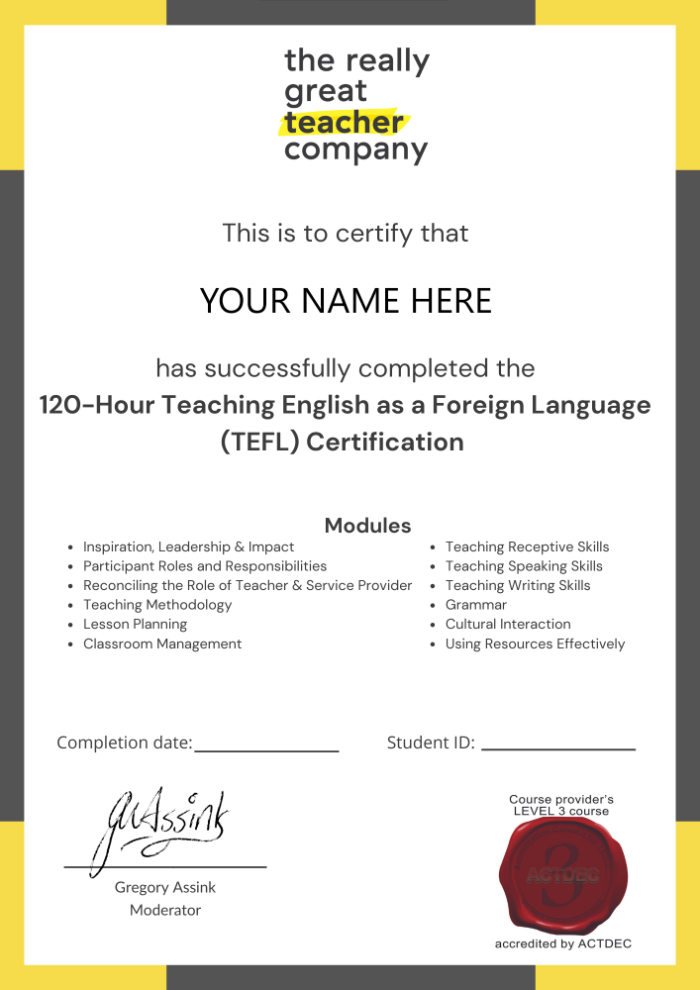 Our 120-hour Teaching English as a Foreign Language (TEFL) Certificate has been developed by The Really Great Teacher Company, an organisation that is a world leader in training, managing, and developing online teachers.
The certification is an online course that equips you with the tools needed to teach English.
We have used our knowledge and all our experience gained from managing and training thousands of teachers to develop a certification that delivers the best outcomes in the industry.
Suitable for Online or Face to Face Teaching

Internationally Accredited (ACTDEC Level 3)

Real-time trainer support

Practical flow that is Engaging and Inspiring
14 comprehensive Modules

Try before you buy - First module free with sign up

USD$150 all inclusive
The Really Great Teacher Company's TEFL certification is a premium product that will equip you to confidently teach foreign language speaking students.
Who should obtain this TEFL certification?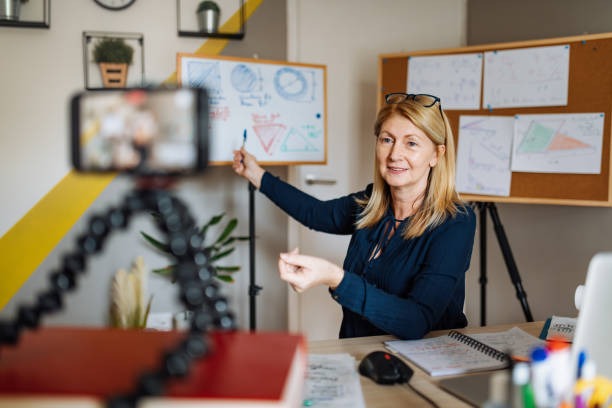 Those interested in exploring and entering the profession of Teaching English as a Foreign Language. 
An online, or classroom-based English teacher who is required to have a TEFL certification to teach.
Any English teachers looking to refresh their knowledge.
Qualified teachers wanting to extend into teaching English as a foreign language.
What can you expect?
You will be guided through an online learning experience with a trainer to ensure that you are well prepared and confident to teach English.
You can choose from different multimedia options for assignments.
Our trainers will regularly engage with you, and provide feedback on how you can improve; what you need to revise; and what further reading will be valuable.
Trainers reply to your submissions and queries within 24 - 48 hours.
Internationally Accredited with ACTDEC

ACTDEC is one of the world's most highly respected, independent accreditation bodies, and it has been in existence since 1993. 
The Really Great Teacher Company's 120-hour TEFL Certificate is an accredited level 3, 120-hour Distance-training Course, in terms of ACTDEC requirements and standards.
Their rigorous standards and unique approach to accreditation ensures that we offer a TEFL course that exceeds industry standards and ensures that you get the best possible results for your efforts.
Having an instructor all throughout the course is really helpful… having someone there for you and to guide you through each exercise, and offer mentoring advice is something that really motivates me and pushes me to complete the assignments as best as I can.
— Jiu, Online English Teacher
I keep on learning so much throughout this whole course. With the great support, guidance and positive comments, it motivates me to keep going and it makes my learning experience a pleasure

.


— Arauna, Online English Teacher
I really liked that the assessment questions aren't all multiple choices. The final questions really got me reflecting and thinking about how I could improve my teaching.
— Bo-An, Online English Teacher

ACTDEC accreditor feedback
This TEFL course embodies best educational practice in assessment and feedback.
The commitment to course evaluation and quality assurance is super.
TRGTC has in place exemplary measures and procedures for providing regular feedback and support to trainees and for assessment of learning outcomes.